The Filipino palate is truly mysterious. We often mix opposite tasting ingredients such as sweet and sour to come up with a dish that would be awesomely scrumptious or delicious. Because of our abundant source of livestock, we, Filipinos can easily experiment different styles of cooking by using our own native ingredients. Just an overview, here are some of the many common Filipino dishes:
Adobo
This dish conceivably is a Filipino pride. It has been well known around the world already for its easy preparation and its elegant taste. It usually involves pork or chicken that is marinated in soy sauce, vinegar, garlic and salt.
Sinigang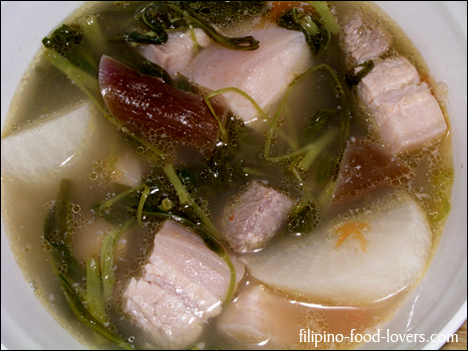 This is a sour tasting soup that is also very popular in the Philippines. It's sour taste is basically from tamarind (sampalok). Nowadays, there are already tamarind soup mix that makes it easy to control the sourness of the soup. It is also enriched with vegetables such as onion, garlic, radish, tomato, and string beans and many other vegetable depending on the cook's preference. It's main meat source could be pork, fish, or shrimp.
Pinakbet
Pinakbet is a meat-vegetable dish that is very famous in Luzon. It has also been widely cooked around the Philippines already. Commonly, vegetable ingredients are ampalaya, eggplant, okra, tomato, garlic, onion, and ginger. After sautéing onions and garlic, boil water with bagoong before adding the slices of meat and vegetables.
Paksiw
Generally, paksiw involves fish and vegetables. This can easily be made by only boiling slices of fish in water and vinegar. Some onions and garlic may be added as well. Green pepper as the final touch before turning the heat off.
Kilawin
A very popular dish that doesn't require heat for cooking. Tuna or any fish is soaked in vinegar until it becomes pale. To add spice to the dish, they usually add lemon, onion slices, crushed garlic, cucumber, and hot pepper.
Mechado
With its thick tasty gravy soup, this has become very popular in every restaurant. It is a protein rich food for it contains slices of beef and pork marinated in soy sauce, vinegar and spices.
Crispy pata
A very mouthwatering deep fried golden brown pork legs. This dish is almost always present in parties and celebrations.
Sisig
Also called "sizzling sisig". A well-known Filipino dish that is marinated in sour ingredients like vinegar, lemon, and hot pepper. It is commonly a side dish in an alcohol drinking session. Hence, also a common viand in restaurants.
Beef steak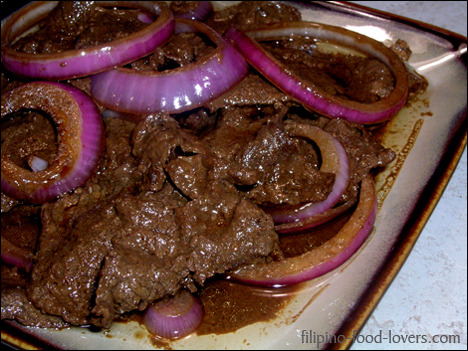 This food is not only popular in the Philippines but also around the world. With it's marinated tender cut beef in soy sauce and some vinegar, it's taste is really unforgettably awesome. It is an easy to prepare and cook dish ---that is why most Filipino households would make this once in a while.
Dinuguan
Also called "pork blood stew". This dish usually involves meat from pork intestine, liver, ears and stomach. It has been considered as an exotic food for it contains pork blood as its main ingredient.
Kare kare
A popular Filipino Stew with peanut as its main taste power. Usually, beef or chicken is used and mixed with assortment  of veggies. You won't eat this without bagoong for sure.
Chicken Tinola
This food is a Filipino favorite. Not only that it is very satisfying, it also filled with essential vitamins and minerals for its ingredients consist of vegetables such as ginger, garlic, onion, and moringa (malunggay in tagalong). It also have some young papaya which adds to its nutritional value.
By: Bj G.
Read more...