April 2011
Written by bj geronimo

Lifestyle / Hotel & Beach Resorts
It was a cozy day when I and my friends went on a trip to Seagull Mountain Resort in Buda. We have decided to have this nature excursion to have ourselves relaxed and to experience the touch of mother earth. It was a two-hour travel from Davao City proper on an average car speed.

The closer we get to the resort, the colder the breeze becomes. By that time, we decided to turn off the air condition and open our windows. It is also noticeable that most households that reside along bukidnon-davao road sell different kinds of flowers. Perhaps the unvarying cool wind makes the place suitable for growing flowers.

As we finally arrived to the resort, we were immediately greeted by the friendly staffs. They took us to the external lobby, have our name listed, and pay the entrance fee. They placed a colored sticker on our shirt for confirmation that we have enlisted and paid already.


As we entered the resort, we were immediately captivated by the stunning landscape. Big trees, delicate flowers, and crowds of tourists have been my first view. We took group photos and some wacky shots straight away. Without delay, we asked the staff to bring us to the mini waterfalls. We were transported using an open colorful van which only took us about two minutes to arrive on such place.
Upon seeing the waterfalls with three swimming pools adjacent to it, I felt like I want to dive without hesitation. The only thing that made me hold back was that a digital camera was hanging around my neck. Not too soon, we unpacked our things and arranged our packed lunch and crackers on the table. Some of my friends jumped right away in the pool without testing the water. In a minute or two,

I followed them and took a dip as well. However, almost immediately, I was shivering for
the water is really freezing cold. Nevertheless, after seeing my friends having fun, I forgot the
frosty feeling. We took dozens of shots while trying to show that we are not affected by the
extremely cold water and cold breeze.




some water and cola at the nearby satellite store.

We packed our things again and rode an open van. This time, we went back uphill to visit the 14 Stations of the Cross. I felt like I had a strong connection to God while praying there; perhaps because of the tranquility and solemnity of the place.



By and large, the resort indeed, has a lot to offer. Not only that it gives comfort and relaxation, it
also offers adventure and nature experience. For people who want to stay overnight, there are
pavilions, condo units, camp sites, cabin and rooms available for rent. Conceivably one must seek
reservation to make sure a unit is vacant. Such vary from the numbers of beds
or occupants. Some would also seek more adventure and just stay in their own tent for the night.
The resort indeed offers many amenities. They have a restaurant, steak house, spa, and a golf course that is still under construction. They have minivans, golf carts, and a bus for an easy tour. Moreover, just in the entrance are some natives that sell handmade necklace and bracelets in which they sell for an incredibly low price. I have personally bought ten bracelets which only cost a hundred pesos all in all.

Whether you're going with your family, your  partner or even with your friends, Seagull mountain resort is truly worth the visit. The resort is at 4200ft above sea level which allows you to actually experience the soothing and relaxing cold breeze. What's more, the overlooking view of the mountains and valley will without a doubt take your breath away. In my point of view, it is imperative that people especially the one living in Mindanao should visit such
wonderful haven.

By: BJ Geronimo
Read more...
Written by Leahona

Lifestyle / Travelers Blog
Filipino ingenuity, practicality and curiosity have paved the way to discoveries of medicinal alternatives. Instead of using synthetic drugs that can be bought in pharmacies, the Department of Health (DOH) is convincing people to use traditional herbal medicine. They attest that it is cheaper, accessible, and have little or no side effects.  After series of studies and and painstaking experiments, the DOH has already scientifically approved ten herbal medicines in the Philippines.
Akapulko (Cassia alata)
This medicinal herb contains chrysophanic acid and fungicide that can help treat people suffering from scabies, ringworm, eczema, and intestinal parasite
Ampalaya (Momordica charantia)
It has the capacity to regulate sugar levels in the body. As a result, it may be used for the treatment and maintenance of Diabetes Mellitus type 2 or the so called non insulin dependent diabetes.
Bawang (Allium sativum)
It is very popular for its natural antibacterial effects. Crushed garlic may be directly applied on wound to prevent infection. Best of all, it has been proven to reduce cholesterol level thereby lowering high blood pressure.
Bayabas (Psidium guajava)
Bayabas/Guava can be used as an antiseptic. It's boiled leaves can be used as a mouth cleanser thereby treating mouth or any gum infections. Traditionally, parents usually use this to cleanse the genitals of their newly circumcised child.
Lagundi (Vitex negundo)
This herb can effectively treat cough and asthma. This herb has become popular not only in the Philippines but also around the world. There have been capsules developed from this herb as well.
Niyog-Niyogan (Quisqualis indica L.)
The dried full-grown seeds of this vine are very helpful in eliminating intestinal worms. Preferably, ingest the seeds two hours after meals for higher efficacy. If ineffective, you may do it again after a week.
Sambong (Blumea balsamifera)
This herb has a diuretic property. When ingested, it may help excrete excess water and sodium in the body. It is very helpful for people suffering from kidney stones.
Tsaang Gubat(Ehretia microphylla Lam)
This shrub is well known to relieve abdominal spasm and gastroenteritis. It also has high fluoride content which makes it a good mouth gargle to prevent teeth and gum problems.
Ulasimang Bato (Peperomia pellucida)
The leaves of this herb can be ingested thereby decreasing uric acid level. It may help people who are suffering from gout and arthritis. It also contains many vitamins and minerals necessary for our daily nutrition.
Yerba Buena(Clinopodium douglasii)
By pounding the leaves and applying it to an area with pain, it may serve as a topical analgesic. It may also be taken orally by making a tea out of it thereby relieving pain as well.
Aside from these approved herbal plants with medicinal values, Filipinos also use several other herbs for treatment of different diseases. Tawa-tawa, for example, is said to help people suffering from dengue. Some people claim that this herb may help restore normal blood platelet.
Tawa-tawa
In addition, the Malunggay or Moringa in English, although not approved by DOH, has already been proven to have great medicinal properties. It can be an antiseptic to wounds and has some antibacterial effects as well. It is also packed with vitamins and minerals essential for a person's nutrition. The Filipinos have become used to using the malunggay leaf as an ingredient in soups and other cuisines. Not only that it adds great taste, but it may also add to the food's nutritional value.
Health and Nutrition have always been at the forefront of the Filipino's priorities. Knowing how to make the best use of these medicinal alternatives, it is imperative for each and every one of us to utilize these available resources to stay fit and healthy. You may take a look at your backyard and realize that the answer to your health problem is just that obscure plant in your garden that you have been ignoring for a long time.  . 
MC Pitt- Editor
BJ Geronimo

Read more...
Written by Leahona

Lifestyle / Travelers Blog
FITNESS
Fitness Centers have been sprouting like mushrooms in every major city in the Philippines in the last few years. Ever wonder why these business infrastructures are enjoying brisk sales in their business? It's getting obvious that Filipino people are hooked on the obsession of having a good physique.
For Filipinos, toning their body not only makes them look better, it boosts their self confidence as well. However, being consistent in working out is not a walk in the park. It is very hard for most people. Sometimes they hit plateau and come to realize that they are not improving no matter what they do. This situation may pull them down and lessen their motivation. Achieving the desired physique cannot be rushed. It takes patience, focus and discipline to achieve that well sculpted body and whistle bait figure. It also requires an individual to follow a specific program and preferably a good diet.
When you enter inside the fitness gym, you will see people of different ages working out. Some are students, while some are doctors, lawyers and other professionals. It has been part of Filipino culture already not to neglect the body.
Generally, if you look around the fitness gym, there are three types of people. First are the overweight who wants to shed a few pounds here and there. Secondly, there are these thin guys who lift heavy weights for them to bulk up and gain weight. Thirdly, you can see the well toned  women or men with riped physique who are just maintaining their body form.
Most gym instructors will recommend you to work out 4 times a week. This, according to them, is the preferred program. You will have 3 day rest per week and you will only limit your workout to one hour. Beyond one hour, they say it is over training. You should spare energy and strength for your next workout and for the muscle recovery itself.
Sticking to the schedule is the hardest part. Sometimes, people feel lazy to hit the gym. That is why they can skip gym sessions thereby slowing their progress. On the other hand, some people have already incorporated fitness in their lifestyle. They feel bad if they can't exercise or workout on the scheduled date. They find the gym as their second home already. As a result, they don't need much motivation to push themselves for it has become part of their lives already.
Regularly, some Filipinos go to clinics for check ups. This is common practice among people falling in the 40 years old and above bracket. Even without experiencing any signs or symptoms of a disease, they still want themselves to be checked on a regular basis.
Overall, Filipinos not only focus on fitness to have a beautiful physical body, but also for the sake of self-worth and confidence that it can give them. It may help them perform better at school, work, or in whatever endeavor they are pursuing.
Nutrition
In terms of nutrition, Filipinos are one of a kind. We may be an admittedly third world country but we are westernized in terms of our food predilection. Almost all our cuisines and dishes, are incorporated with lots of vegetables and nutritious ingredients for the purpose of adding nutritional value to our food. Even our crackers or so called junk foods are already fortified with vitamins and minerals so that finally these can be beneficial to consumers. Besides, regulatory bodies are around to check processed food before they can be released in the market for selling.
Companies that produce vitamins and other supplements in the Philippines are also flourishing rapidly because majority of Filipinos are very concerned about their health. They make sure they have the right dose of every nutrient needed by the body for they believe that slight insufficiency may lead to a disease or sickness.
Even the herbal capsules that have no therapeutic claims have become successful in the Philippines. People easily get swayed by feed backs and testimonies. For them, this is a very reliable source of authenticity. They are easily encouraged especially when they hear about severe diseases  being cured by affordable range of herbal supplements.
In addition, some people, as young as eighteen already follow a strict diet plan. The media, perhaps, is one of the reasons why Filipinos have become very conscious with their diet. We have been seeing in the television how celebrities live their life. As  a result,  We are influenced to pattern our lifestyle to western people such as the Americans and Canadians. Unfortunately though, some people find it hard to take dieting seriously. However, they keep saying that they will just hit the gym and become healthy in a short time. This is obviously just a lame excuse. They are just too lazy to create a diet program and stick to workout/exercise schedule.
Moreover, gossips about bad effects of a certain food can easily travel around the country. Anything that would affect health is a major issue for Filipinos. In fact, even the slightest issue or rumor about the food processing of a certain product may pull the business down. People will not buy the product anymore leading to business downfall, and bankruptcy.
What's more about Filipino nutrition is that there are many companies that ensure good nutrition for Filipinos. The NCP or the Nutrition Center of the Philippines conducts nutrition programs in all sectors within Philippines. They also produce food products that are proven to be packed with essential nutrients for good body functioning. Furthermore, they conduct research on how to improve Filipino well-being.
Filipinos indeed have great concern on their holistic being. As much as possible, they want to make sure that everything they ingest is clean and nutritious. In every household, there is almost always a pack of vitamins for everyday consumption. Vitamin C or the ascorbic acid is the most common. Filipinos undoubtedly have benefited from an up surge of interest in fitness and nutrition. Still, it is disheartening to know that  in some regions of the Philippines this condition does not hold true. There are still so many people suffering from malnutrition in most 3rd class municipalities. Many disorders and sickness arise due to the lack of food, water as well as gravely poor awareness and observance of sanitation. Rest assured though, that the government and private sectors are doing their best to address these prevalent  issues on nutrition.
MC PITT- Editor
BJ Geronimo-Resident blogger

Read more...
Written by Leahona

Lifestyle / Entertainment
Like any other nationalities, Filipinos also have their own superstitious beliefs. We believe in mystical beings and magical entities that all came from the tales of our ancestors.
The story of Juan tamad, being the famous of all stories, is being told even in this modern world. He is quoted to be the laziest man on earth. A very popoular thing that he did was instead of going up to the tree to get the fruit he wanted; he laid on the ground and waited for the fruit to fall.  Furthermore, a very famous thing that Juan also did is when his mother asked him to buy crabs--- Because of too much laziness, he set the crabs free and told them to go to their house by themselves and he will just follow afterwards. Laziness of Juan has also made him stupid and funny. Perhaps that is the reason why this story keeps on going through many generations. This story has also taught Filipino children the consequences of being lazy. In schools and even in the streets, they also tell this story to motivate children not to be slothful or lazy. Such lesson giving story has also become very comedic because of his laziness and stupidness.
With regard to beliefs, the Filipinos also believe in heaven and hell. Basically, they believe that doing good things will allow you to enter heaven after death, and doing bad things will send you to hell after death. These beliefs are from the influence of the Spaniards when they introduced Catholicism in the Philippines. Additionally, they also believe in Bathala whom they believe to be the supreme god and the creator.
Generally, in every household, almost everyone knows about some scary mythical beings. Aswang is the most popular one. It is compared to a vampire that sucks blood at night. It is said that these creatures kill children. Nowadays, parents still tell their children about this mythical creature to scare them from going out at night. Moreover, another very popular mythical being is the Duwende. They said this creature is like goblins or dwarfs that reside anywhere. If they live inside your residence, they are said to hide things and will just give it back to you depending on their mood. They can also be a source of fortune if the duwendes will like the person or misfortune if they wouldn't like the individual.
The agimat is also a very popular mythical item that is said to have several benefits. It is like an amulet that is worn by a person making him immune to sickness. The wearer may also have super strength and mental alertness. In some other stories, they said the wearer can easily woo a girl for marriage.
There are still hundreds of Filipino myths and stories in every part of the Philippines being constantly told from one generation to another. Whether these stories are true or not, we can only say that Filipinos indeed have imaginative and creative minds.
Funny stories
Read more...
Written by Leahona

Lifestyle / Travelers Blog
The Philippines is an archipelago that lies on the south -east Asian region of the world and it famous for many things- including being the only predominantly Christian nation in the Asian bloc. It is a colourful hodge podge of different cultures and has a microcosm of ethnic and tribal groups. The enriching variety of traditions by all migrants/ indigenous groups and the wave of foreign conquest that swept its shores has bestowed lasting influence which are now part of the blue print of the Filipino psyche. All these contributing factors have made Philippines what it is now- beautiful, resilient, pious, endearing and forbearing.
Philippines was introduced to the known world during April 1521, when the Portuguese explorer named Ferdinand Magellan set foot on the shores of Limasawa island in Southern Leyte. During that time, there was no centralized form of government. Instead, there were Chiefdoms. These Chiefdoms or Balangays are the small governing bodies and are autonomously lead by warlord/ chieftains locally titled Raja/ Datu. With the Cross and the guns the Spanish conquerors claimed the land and named it Philippines ( taken after the name of the Spanish king, Philip II) Though Ferdinand Magellan had been killed at the shores of Mactan, Cebu after engaging in a skirmish battle with the first Filipino hero Datu Lapu Lapu and his band of tribesmen, The remnant of the sailors were able to sail back to Spain and encouraged more expedition into the Philippines which turned our fledgling country into a proper Spanish colony which lasted a good 333 years.
The dawning of 19th century marks the era of the declining clout of the Spaniards-  thanks to the Americans who after a battle with the Spaniards, bought the Philippines from the latter for a sum of twenty million dollars. It was the biggest deed of sale ever-  the entire country was bought out by the Americans. After the Spanish and the Americans signed the Treaty of Paris, the war had ended but the Americans formalized their sovereignty of the Philippines. The Americans had governed the archipelago for 48 years  establishing its lasting legacy of democracy,education and foreign policy. After which the populace clamoured for independence from which the nation came out as The Republic of the Philippines. From the brief history of the Philippines, its easy to understand how the culture and traditions have uniquely evolved into what it is now.
First and foremost the majority of the Filipinos are Christians, this  is because the Spanish colonizers brought their friars who were baptizing the animist indigenous Filipinos to become Christians. Religion became both the saving grace and weapon of the Spaniards. But looking back- we have no bitterness towards this manipulation because Christian Faith has saved our country from a lot of trials throughout our shared history as a nation. The Filipinos celebrate greatly the traditions of Christianity which include the Lenten season especially the Easter Sunday. The resurrection of Jesus Christ is said to be the most important celebration of Christians. Another Filipino-Christian event is the birth of Jesus Christ; the Filipinos look forward  to the dawn to hear masses which is called "misa de gallo". After which, they all head to the streetfood counters to have breakfast consisting of traditional Filipino sweets and hot chocolate drink. Furthermore, infants and persons are expected to be baptized as Christians. A Confirmation religious ceremony also happens when they have reached adult age to affirm their faith in the Church and most importantly in Christ. Filipinos indeed are religious and they had strong relationship with their God.
Secondly, Filipinos observe dates of revelry called Fiestas. These events are usualy religious in origin. Different places have their patrons saints. During Feasts, neighbors would visit every other house and have a lovely meal with other guests. It is in this occasion that Filipino Hospitality becomes evident. Filipinos are food lovers. Who can ever forget the lechon (roasted pig) in the dining table? Every fiesta will always have this as a center piece. The Filipino solidarity or bayanihancan often be observed in Boodle feasts or kamayan ( celebrating a big meal of sumptuous grilled morsels eaten best on banana leaf and enjoyed without any cutlery- only freshly washed bare hands. Another instance when the virtue od Solidarity/ Bayanihan is observed is during the moving of an indigenous cottage called bahay kubo from one location to another. Such an endearing sight for foreigners and locals alike to see sweaty muscled men in a group effort to carry the bahay kubo to a new home base.
Thirdly we highlight the Filipino way of courtship. From the perspective of the family the aspiring male should not only court the damsel but her the family as well. Also, the woman should never visit the man in his own house. The Filipino gentleman usually courts the woman by singing and playing guitar outside the window which is called harana and pleasing the girl as well as the family. Some of the provinces in the country still practice this kind of courtship. In, addition the man should respect the parents by placing the back of the hand of the parent into the man's forehead which is calledpagmamano. After all the courtship,  the woman is now ready to accept the man's love for her and avows to give her devotion.. The next step after successful relationship between the man and woman would be the engagement. The man would now ask the woman's permission and tell the woman's parents that they are going to get married and if the woman's parents accept the permission they would give their blessings and ready for the wedding, the process is called pamamanhikan. Since most of the Filipinos are Christian and conservative, they usually opt for a church wedding than  the other alternatives.
Fourthly we tackle the Filipino love for food. Different food specialties abound throughout the region. For example,  the Southern Luzon area is known for their Bicol Express, which consists of native chillis, coconut milk, vegetables and fried pork . In the seaside region, seafood recipes are a staple. The mountainous regions like Baguio and Cagayan Valley are known for organic vegetable morsels from which pinakbet is widely loved in the dining tables. Filipinos also share a number of favourite dishes that are widely cooked and enjoyed everywhere in the country these includes;adobo, bulalo, kaldereta, arroz caldo, bibinka, puto maya and many more. The Filipinos also  has a penchant for exotic food which the old folks believe to strengthen the knees: this is the Balut . Thebalut is sold by street vendors who go around in bicycles. Other delicacies like the kwek-kwek (deep fried whole egg  breaded in orange colored flour) and buko juice which is famous for its healing properties(fresh coconut juice).
Lastly, let us not forget to applaud this most endearing Filipino quality- the respect for elders. The children are trained by their parents to speak respectively to the elders and by saying  affirmative terms which is po and opo. Close family ties is  strong among Filipinos. Extended families in each home and living in a Family Compound are quite common even today.
To conclude with due candour- never has the term beauty in diversity found its most apt embodiment in the culture and traditions of the Filipino nation. We ought to be proud being Filipinos.
MC Pitt- Editor
Jonah- contributing blogger
Read more...
Written by Leahona

Lifestyle / Travelers Blog
Like any other nationalities, Filipinos also have their own superstitious beliefs. We believe in mystical beings and magical entities that all came alive from the colourful narratives of our ancestors.
The story of Juan Tamad (or Lazy John) being the most  popular all stories, is being told even in the contemporary times. He was known to be the laziest man on earth. One infamous thing that he did was instead of going up to the tree to get the fruit he wanted; he laid on the ground and waited for the fruit to fall.  Furthermore, another antic he was known for was the incident when Juan was running errands for his mother. he bought crabs- but being too lazy to bring the crustaceans home himself, he ordered the crabs to crawl from the market to his mother's kitchen! His apparent laziness has caused him to become silly and funny- which surprisingly has endeared him to the simple minded populace. Perhaps that is the reason why this story keeps on resurfacing from generation to generation. This story has given potent lessons to many Filipino children- warning them of the imminent consequences of being lazy.
The Filipinos also believe in heaven and hell. This belief is largely on the account of the undeniably strong influence of the Roman Catholic Church  to infuse on the Filipino public the belief on the heavenly reward for earnestly seeking to be a good christian with faith and good works and a holy fear for divine retribution and punishment. The piety and religiosity of the Filipinos stems from the three centuries of Spanish occupation whose influenced our reverence to the Cross  and Christianity. In Addition, the belief in Bathala as  the supreme god and the creator has survived modern times though this pre-historical name of God has been around since the ancient age of animism.
Filipinos also has this uncanny belief that their homes, gardens and properties are inhabited or visited by benevolent and sometimes evils mythical beings. The engkanto (elves- can be either good or evil) that lives in some dark corner or some old tree in the backyard, the kapre ( or elemental monster that resembles a giant and hairy human-like monster lounging on the tree branches of very old and huge trees, the tikbalang ( imagine a centaur but the other way around- head of a horse body of a man) , the aswang ( imagine a blood sucking, flesh eating vampire) It is said that these creatures feast upon the flesh of infants and little children. Horrid. Nowadays, parents use these macabre stories to persuade their children to keep them still inside the house at night time. Moreover, another very popular mythical being is the duwende ( dwarves or trolls/ goblins). These mythical creatures are said to be mischievous- they enjoy hiding things in the house and will only give it back to you depending on their mood. They can also be a source of fortune as they are believed to bestow material favour or an amazing sense of good luck on people whom they like.
The agimat ( Amulet) is also a very popular mythical item that is said to have several benefits and powers. It is an amulet that is commonly seen looking like a pendant or a jewelry. If worn depending on what its charms are intended for- the benefits ranges from making the wearer immune to bullets and blade, sickness, curse or defense against malevolent elemental spirits.The wearer can also have super strength and mental alertness. In some other stories, they said the wearer will be able to easily woo a girl for marriage.
There are still hundreds of Filipino myths and stories in every part of the Philippines being constantly told from one generation to another. Whether these stories are true or not, we can only say that Filipinos indeed have wildly imaginative minds that continues to tickle our concept of reality and provides inspiration to colourful epic plots for movies and literary works of art.
MC Pitt- Editor
BJ Geronimo - Resident blogger
Read more...
Written by Leahona

Lifestyle / News and Events
The Filipino palate is truly mysterious. We often mix opposite tasting ingredients such as sweet and sour to come up with a dish that would be awesomely scrumptious or delicious. Because of our abundant source of livestock, we, Filipinos can easily experiment different styles of cooking by using our own native ingredients. Just an overview, here are some of the many common Filipino dishes:
Adobo
This dish conceivably is a Filipino pride. It has been well known around the world already for its easy preparation and its elegant taste. It usually involves pork or chicken that is marinated in soy sauce, vinegar, garlic and salt.
Sinigang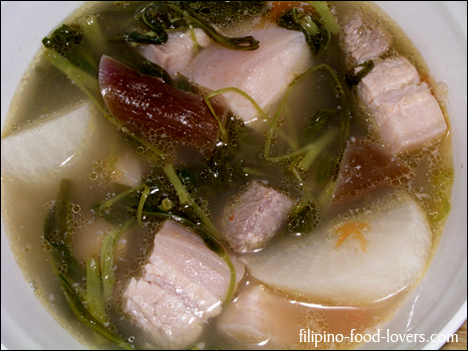 This is a sour tasting soup that is also very popular in the Philippines. It's sour taste is basically from tamarind (sampalok). Nowadays, there are already tamarind soup mix that makes it easy to control the sourness of the soup. It is also enriched with vegetables such as onion, garlic, radish, tomato, and string beans and many other vegetable depending on the cook's preference. It's main meat source could be pork, fish, or shrimp.
Pinakbet
Pinakbet is a meat-vegetable dish that is very famous in Luzon. It has also been widely cooked around the Philippines already. Commonly, vegetable ingredients are ampalaya, eggplant, okra, tomato, garlic, onion, and ginger. After sautéing onions and garlic, boil water with bagoong before adding the slices of meat and vegetables.
Paksiw
Generally, paksiw involves fish and vegetables. This can easily be made by only boiling slices of fish in water and vinegar. Some onions and garlic may be added as well. Green pepper as the final touch before turning the heat off.
Kilawin
A very popular dish that doesn't require heat for cooking. Tuna or any fish is soaked in vinegar until it becomes pale. To add spice to the dish, they usually add lemon, onion slices, crushed garlic, cucumber, and hot pepper.
Mechado
With its thick tasty gravy soup, this has become very popular in every restaurant. It is a protein rich food for it contains slices of beef and pork marinated in soy sauce, vinegar and spices.
Crispy pata
A very mouthwatering deep fried golden brown pork legs. This dish is almost always present in parties and celebrations.
Sisig
Also called "sizzling sisig". A well-known Filipino dish that is marinated in sour ingredients like vinegar, lemon, and hot pepper. It is commonly a side dish in an alcohol drinking session. Hence, also a common viand in restaurants.
Beef steak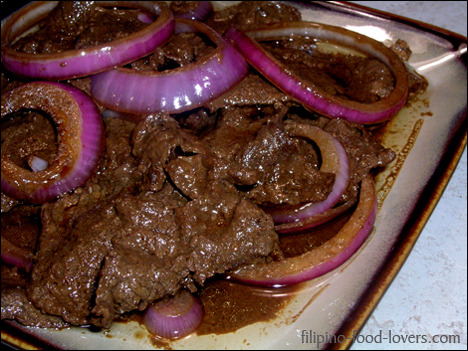 This food is not only popular in the Philippines but also around the world. With it's marinated tender cut beef in soy sauce and some vinegar, it's taste is really unforgettably awesome. It is an easy to prepare and cook dish ---that is why most Filipino households would make this once in a while.
Dinuguan
Also called "pork blood stew". This dish usually involves meat from pork intestine, liver, ears and stomach. It has been considered as an exotic food for it contains pork blood as its main ingredient.
Kare kare
A popular Filipino Stew with peanut as its main taste power. Usually, beef or chicken is used and mixed with assortment  of veggies. You won't eat this without bagoong for sure.
Chicken Tinola
This food is a Filipino favorite. Not only that it is very satisfying, it also filled with essential vitamins and minerals for its ingredients consist of vegetables such as ginger, garlic, onion, and moringa (malunggay in tagalong). It also have some young papaya which adds to its nutritional value.
By: Bj G.
Read more...
Written by Leahona

Lifestyle / Travelers Blog
It has always been the Davaoeňos pride to say that their water is one of the cleanest in the world. It is all naturally purified and filtrated from the rocks beneath the surface of the earth. These rocks are molten rocks from the past volcanic eruptions of Mt. Apo ( The tallest non-active volcano in the Philippines)
While some people say that the Arctic has the cleanest water found on earth, the Filipinos, especially the Davaoeňos say that Dumoy's water, which is located at Talomo District South of Davao City, has the second cleanest water on earth.

When experts went to Davao City to test the Dumoy water source, they said that it is the 2nd cleanest water in the world. Not only that, they also found out that it is the sweetest tasting water that can be found in the Philippines. For that reason, many factories that utilize water as their source of income have been flourishing around the city.
It has been argued that the quality of Dumoy water has back slided and therefore is no longer the 2nd cleanest water in the world. For one, the Philippines is a growing country which means that industrialization is steadily growing. As a result, factories could be making wastes that get dumped in water sources that cause the water to become polluted. However, the government is taking necessary actions to address these problems. They impose laws on treating wastes from infrastructures, plants, and factories. The authorities strictly require them to follow such rules. Consequently, the waste that goes out of these infrastructures, installations, plants and factories are less harmful to the environment and can be compensated by the natural filtration and purification by the rocks beneath Davao's surface.
While we do enjoy an abundance of  water at this times, it cannot be assured that we will always superior quality water forever. It is our basic necessity aside from food and shelter. Nevertheless, wherever we are in the world, we should learn to conserve water. The malls and other business and leisure establishments have been using urinals and toilet bowls that could save millions of gallons of water in a year. These are some of the things that could be very helpful indeed in saving water. Furthermore, some households have started using rain water for cleaning their backyard and other parts of the house. These measures, if done by the vast majority, will be very beneficial to mankind.
There is a scarcity of water in some parts of the world. Many people die everyday due to dehydration. By this reason itself, we should learn to conserve water. Moreover, we should also learn to protect our water since the threat of water borne diseases could easily cause a serious outbreak resulting in poor health or even death. Let us safeguard our natural drinking water sources so that we can thwart bacteria or viruses from escalating.  Current events and historical records can attest of many severe cases reported in many parts of the world Therefore, we have to take precautions.
Should there be cases of water borne diseases in a hospital, the authorities will immediately check the water source where the sick client is living. With this, the people living in the area could be warned of a potentially serious outbreak of an epidemic such as cholera, dysentery, typhoid fever and other ailments. Hence, we can stop the impending outbreak of the disease from wrecking more havoc on the lives of many people.
MC Pitt- Editor
BJ Geronimo- Resident blogger
Read more...
Written by Leahona

Lifestyle / Travelers Blog
Since Manila is the capital of the Philippines, people all over the world are attracted to start a business in such metropolitan. Its economic status is now constantly going up. With regard to real estates, Manila has terrific market value. One reason for that is its government itself that allot huge amount of funds for Manila infrastructure and business establishments. Thereby, it attracts tourist and investors to purchase a property, immigrate, and start a business in such place.
Generally, in terms of real estate, Manila can give great wealth opportunities for foreign and local investors. If one has the capacity to buy, buying a property would be a good idea. Condominium units and residential houses scatter all over the city. They are situated near business establishments and other amenities necessary for comfortable and luxurious living. As a result, market values of properties are always on the rise.
Indeed many countries all over the world are suffering on global crisis. A lot of business firms are going down and real estate industries are having slow financial return. However, this predicament has little or no effect in Manila. Real estate in Manila can be bargained to its minimum price. Moreover, they not only offer properties itself, but also living room set and some appliances as a bonus upon purchasing the property. In addition, for people that wants to invest but need on the spot payment, they could avail a lot of options. They can still have their desired home through loan from the resident developer itself. This is called in-house financing. On the other hand, bank mortgage can also be of help. Just show the bank that you are worthy of such lending by showing some document proof such as your credit history and, of course, providing a fair collateral for security. With regard to processing time, in-house financing would be faster. However, in-house financing, has most likely much higher interest rate than bank financing.
To conclude, Manila really is a great place for many. Not only that it offers tourist attractions, but also many job opportunities, excellent business potentials, and persistently rising real estate industry. What's more, are the great people living in it. The well-known Filipino qualities are always existent such as hospitability and kindness. Filipinos are also fund of giving discounts and promos which make business fun and rewarding. Best of all, the English fluency of the vast majority is also one of the assets for attracting foreign investors to visit and invest in Manila. With all these exemplary qualities the Philippines, specifically its capital is a perfect haven for building affluence and prosperity.
By: BJ Geronimo
Read more...
Written by Leahona

Lifestyle / Travelers Blog
With an excellent economic record, Cebu can open up great opportunities for excellent investments. This city is the second largest city in the Philippines which upholds outstanding productivity in terms of business, exports, and tourism. Moreover, the City is situated on a very strategic location -- it is not on an earthquake zone, it rarely experience typhoon, and has no active volcano that is present.
Since Cebu city offers many tourist attractions and business opportunities, people all over the Philippines and even from other countries are migrating to such wonderful place. As a result, real estate investments have always been a success.
In Cebu, one can have an array of choices when it comes to real estate. Investors may choose purchasing properties on higher grounds with breathtaking view of the city. One can also invest in condominiums or residential houses that are built near white sand beaches and even in the heart of the city itself.
Like any investment, building wealth through real estate in Cebu is not easy. Considering that many real estate agents have been competing nowadays. Such competition is tight as there are a lot of potential buyers that agents want to accommodate. Some real estate agents would even try to entice potential buyers with different kinds of offers and promos. Some may offer free appliances such as flat screen television, an air-condition unit, and a living room set. Other agents, in an attempt to persuade potential investors to sign up with them, they invite them to community or town events for them to feel and experience how interesting the place is.
Moreover, Cebu has all the elements needed for sustaining investments. It's fast growing economy gives a big smile to businessmen and investors. What's more, it has all the amenities and business facilities that could help maintain the supply and demand in terms of marketing and business. With regard to property investments, Cebu has almost made real estate agents successful. However, some may also have a hard time due to the lack of knowledge and expertise. Undeniably, property investments in the Philippines have truly made a lot of people wealthy already, yet this doesn't mean that people could just jump into this career and harvest enormous cash. Not only has that it required thorough understanding, but also experience and dedication
In addition, this province has many great schools, universities and educational institutions. For that reason, many people all over the globe decide to transfer and reside in Cebu. Thus, this opens up an opportunity for real estate agents yet again. Basically, students look for condominiums, while some would also want residential houses. In whatever decision they will make, it would certainly benefit the real estate industry.
Overall, with Cebu's great qualities, purchasing a detached residential house or a condominium unit is a perfect idea. Finding renters or tenants will just be a walk in the park. Nonetheless, finding the good ones could be a concern. A little background check like checking their credit history, income source, and even the personal characteristics will be essential to make sure that your property is in good hands. Of course you want your property to be always in good condition.
By: BJ Geronimo
Read more...
Page 1 of 2
<<

Start

<

Prev

1

2 Next > End >>